Whether you're at home or at work, Volvo and Amazon make it easy and seamless to receive packages safely and on your own terms. With the Volvo On Call and Amazon Key App, you can now get your Amazon packages delivered directly to your vehicle. As the first European premium car manufacturerto offer in-car delivery in the US, Volvo gives you the opportunity to unlock convenience.
Convenience. Delivered.
Have you ever had trouble keepinga surprise a secret? Volvo and Amazon have made that easier!  And, never has getting what you need when you need it been more convenient. Simply shop on the Amazon mobile shopping app or website, select the in-car delivery option at checkout, and your packages will be delivered straight to your Volvo. Your vehicle will be securely accessible to the delivery driver and you can check your upcoming vehicle access within the Volvo On Call app. Receiving deliveries while at home or away is amazingly simple with In-Car Delivery.
Eligibility
Customers with vehicles model year 2015 or newer with an active Volvo On Call subscription and an Amazon Prime membership are eligible for In-Car Delivery. For more information on Volvo and Amazon eligibility and locations,
click here
.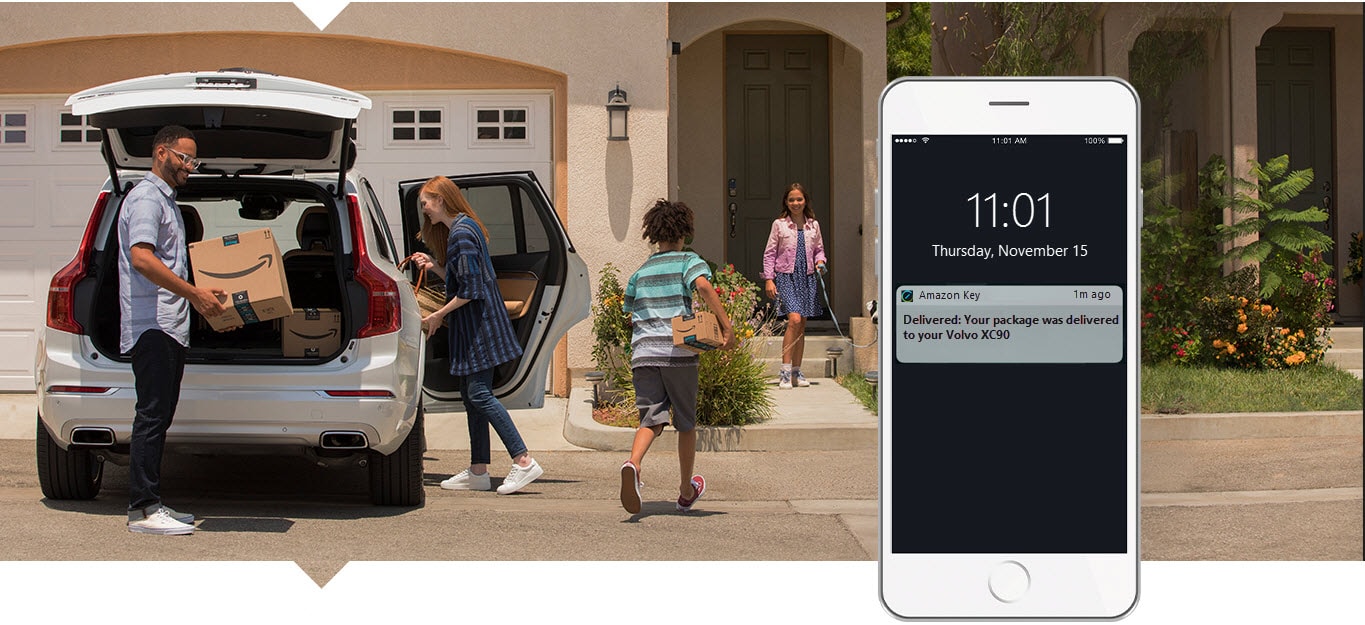 Complete one-time setup in the Amazon Key App to receive in-car deliveries-no new hardware or devices required. Setup includes adding your vehicle and linking your Amazon account with your active connected car service account. On delivery day, the Amazon Key App lets you check if you have parked within range of the delivery location, and provides notifications with your expected 4-hour delivery time window. The app also notifies you when your delivery is on its way, and your package has been delivered. You can even track when your car was unlocked and re-locked in the app's activity feed, and rate your in-car delivery.
Amazon Key In-Car Delivery is a FREE benefit offered exclusively to Prime members.