Due to the local curfew ordinance, our SALES DEPARTMENT be closed today
at 1:00 p.m..
Whether you're at home or at work, Volvo and Amazon make it easy and seamless to receive packages safely and on your own terms. With the Volvo On Call and Amazon Key App, you can now get your Amazon packages delivered directly to your vehicle. As the first European premium car manufacturerto offer in-car delivery in the US, Volvo gives you the opportunity to unlock convenience.
Convenience. Delivered.
Have you ever had trouble keepinga surprise a secret? Volvo and Amazon have made that easier!  And, never has getting what you need when you need it been more convenient. Simply shop on the Amazon mobile shopping app or website, select the in-car delivery option at checkout, and your packages will be delivered straight to your Volvo. Your vehicle will be securely accessible to the delivery driver and you can check your upcoming vehicle access within the Volvo On Call app. Receiving deliveries while at home or away is amazingly simple with In-Car Delivery.
Eligibility
Customers with vehicles model year 2015 or newer with an active Volvo On Call subscription and an Amazon Prime membership are eligible for In-Car Delivery. For more information on Volvo and Amazon eligibility and locations,
click here
.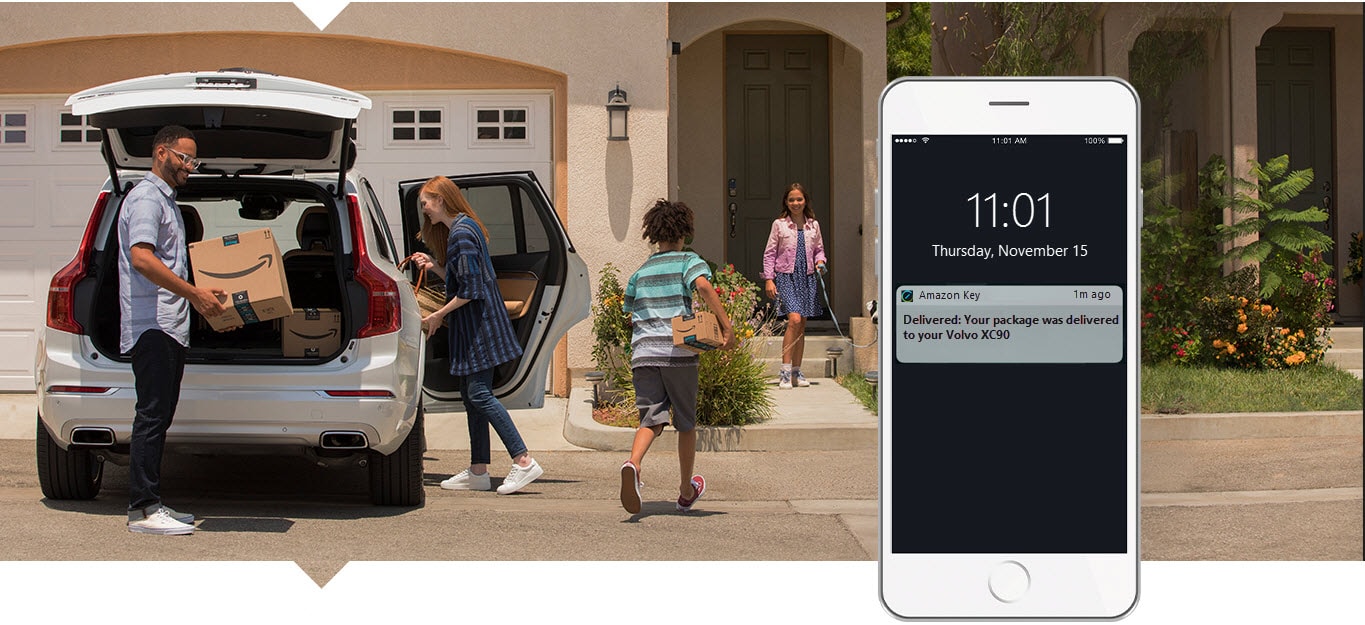 Complete one-time setup in the Amazon Key App to receive in-car deliveries-no new hardware or devices required. Setup includes adding your vehicle and linking your Amazon account with your active connected car service account. On delivery day, the Amazon Key App lets you check if you have parked within range of the delivery location, and provides notifications with your expected 4-hour delivery time window. The app also notifies you when your delivery is on its way, and your package has been delivered. You can even track when your car was unlocked and re-locked in the app's activity feed, and rate your in-car delivery.
Amazon Key In-Car Delivery is a FREE benefit offered exclusively to Prime members.
All the Convenience a Busy Modern Driver Wants with the In-Car Delivery Option on Your New Volvo Car, Wagon, or SUV
We understand that convenience is key for the Los Angeles, CA area driver. When you have a daily grind that keeps you on the road a lot, there is nothing better than when something is easy. That's understandable. In this fast-paced world, the ability to keep things simple is key. One of these things are deliveries. Have you ever had an issue with someone taking your packages at your residence? Do you wish you could have gifts delivered to you so the person they are intended for doesn't discover them accidentally? Now, with In-Car Delivery on your new Volvo car, wagon, or SUV from Volvo Cars Santa Monica, located at 1631 Santa Monica Boulevard in Santa Monica, CA, you can.
Making Deliveries Easy
Venice, CA customers may be pleased to know that Volvo and Amazon have partnered together to bring convenience and luxury to your driving experience. The In-Car Delivery system allows Pacific Palisades, CA customers to get packages from Amazon delivered right to their car. By combining Volvo On Call with the Amazon Key app, Volvo drivers can take advantage of this truly premium service. This feature ensures that you can get packages in a much more convenient fashion and not have to worry about some of the issues that may come up with getting them delivered to your residence when you are not there.
Taking advantage of In-Car Delivery is quite simple for drivers. All you have to do is find what you want on the Amazon mobile shopping app, or on their website. Once you do that, all you have to do is select the in-car delivery choice when you go to check out and your packages will be delivered to your vehicle. The delivery driver will have secure access to your Volvo car, wagon, or SUV and you will be able to get updates on your package with the Volvo On Call app. Every driver with a Volvo that is model year 2015 or newer, has an active Volvo On Call subscription, and Amazon Prime membership is eligible to get the benefit of In-Car Delivery.
Got Questions?
New technology like In-Car Delivery is bound to inspire fascination, and some questions, from customers. Feel free to reach out to one of the professional and knowledgeable sales consultants at Volvo Cars Santa Monica, in Santa Monica, CA, and get all your questions about In-Car Delivery answered.